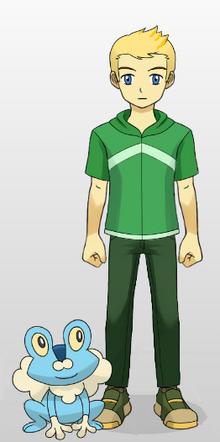 Background Information
Edit
Blake, a sixteen year old trainer from the Kalos Region, came to Hoenn for a new beginning. Growing up as the youngest in a successful family, Blake was always the weakest. Eager to escape from that, he went to Hoenn with his starter Pokemon, Atlas, a Froakie.
Blake met Will and the group in Petalburg Woods, shortly after catching his second Pokemon, Dario, the Shroomish. After a two versus two battle, Blake accepted Will as both a friend and equal fighter. His Froakie, Atlas, has speed unmatched by any Pokemon Will has ever seen. Blake might be Will's most powerful rival at the Ever Grande Conference. 
Physical Appearance
Edit
Hair Color: Blonde with Orange Streaks
Eye Color: Blue
Height: 6'
Weight: 160 pounds
Badges From Last Meeting (Ch. 6)
Edit
No Badges available
Pokemon From Last Meeting (Ch. 6)
Edit
1. Atlas (Froakie) Edit
2. Dario (Shroomish) Edit
Ad blocker interference detected!
Wikia is a free-to-use site that makes money from advertising. We have a modified experience for viewers using ad blockers

Wikia is not accessible if you've made further modifications. Remove the custom ad blocker rule(s) and the page will load as expected.